3RD ORDER AMBISONICS MICROPHONE
FOR AMBIENT & STUDIO RECORDINGS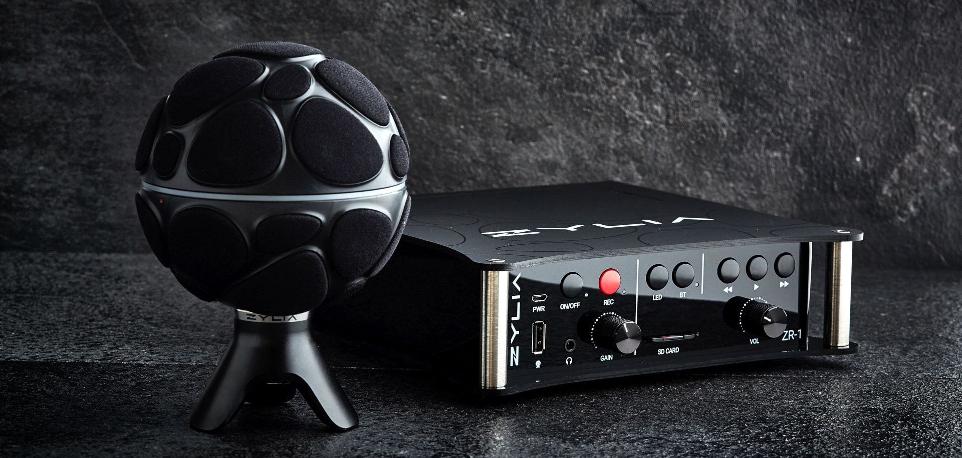 WHAT MAKES MUSIC AND AUDIO EXPERIENCE TRULY SPECIAL ARE EMOTIONS

A skilled sound engineer with the right gear will be able to capture and pass them on to listeners. The less equipment a professional has to use the more natural effect of recordings. With ZYLIA PRO there is no need for a separate microphone for each sound source. The 3rd order Ambisonic microphone captures an entire 360° audio sphere and dedicated, professional software allows you to manipulate Virtual Microphones' polar patterns and positions in already recorded material. Mobile and easy-in-use solution for all sound engineers.
BENEFITS

> No need for a separate microphone for each sound source
> Ability to capture sound sources and the acoustic of the space
> Possibility of modifying the parameters of virtual microphones in the already recorded material
> Surround presets & unlimited post-processing possibilities
> Recording directly to laptop, iPad, Windows tablet, or ZR-1 portable recorder
> High recording resolution
> Mobility & ease of use

Record high quality, 360° 3D audio in 3rd order Ambisonics ​wherever you are and ​with a minimal equipment

3RD ORDER AMBISONICS MICROPHONE ARRAY WITH SOFTWARE

Capture the whole ​360˚ audio scene in the way you hear it in the real world with 19 embedded digital microphones. Create immersive 360° sound scenes for your 360/VR/AR and games projects in Higher Order Ambisonics (HOA) format.
​
​According to our customers, the spatial resolution ​of ZM-1 is brilliant.
Surround presets​
Easily map the recorded scene to several surround standards and presets ​(stereo narrow, wide, binaural, 5.1, 7.1, 5.4.1, 22.2, Dolby Atmos, and more) with one click.
​​3D audio streaming
Stream 3D audio in a binaural format.
Share with your audience a fantastic being-there experience.
360˚ experience​
Combine your 360˚ visuals with truly immersive audio and dive into the virtual world. Record binaural audio, Foley, and incredible sound samples.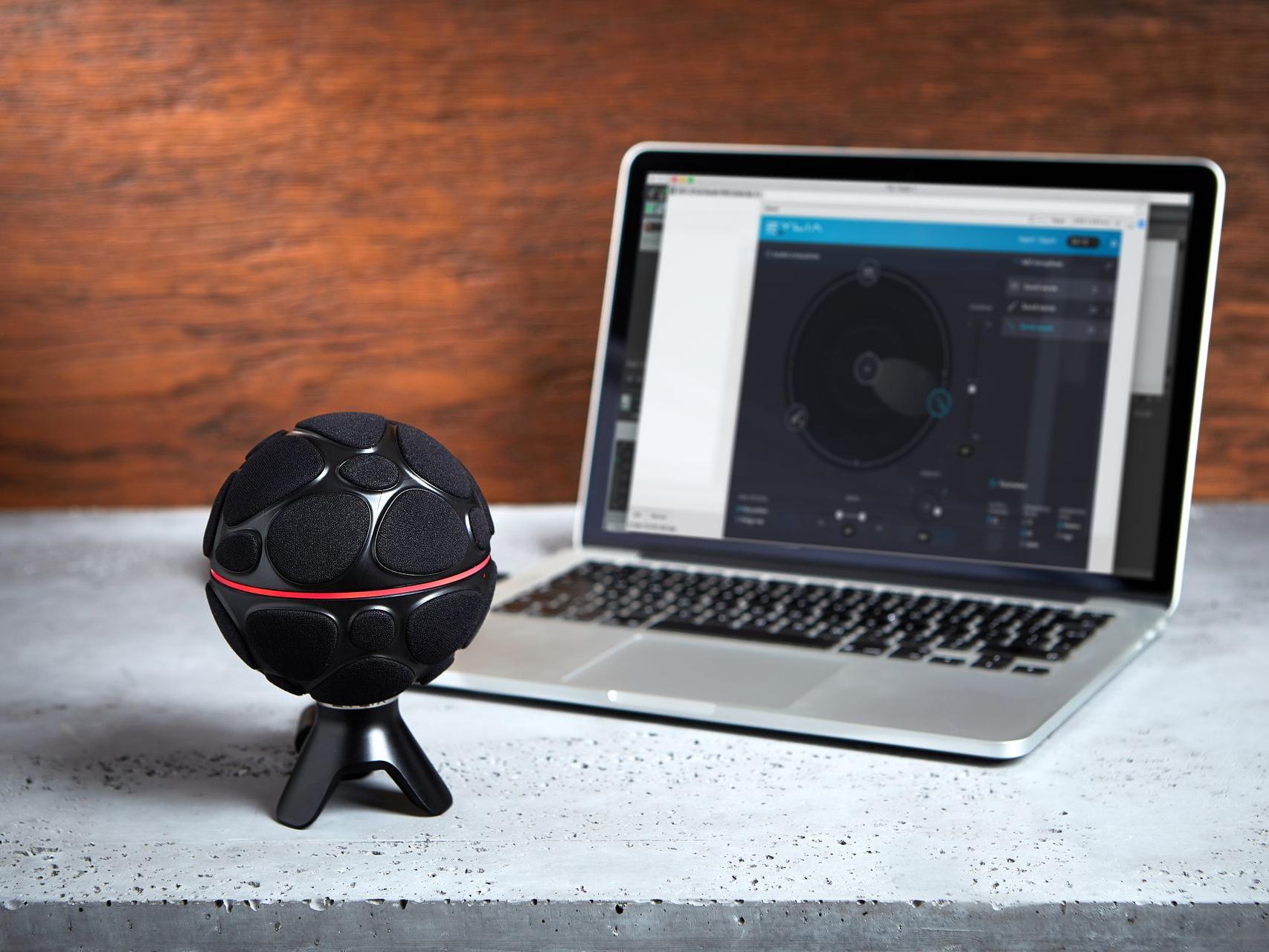 Unlimited post-processing possibilities
Manipulation of 'Virtual Microphones' polar patterns and positions gives you the ultimate control over the recorded sound field in post-processing. Change and test multiple microphone setups whenever you want.

​Mobility & ease of use
Take it outdoors to capture the unique ambience and sound effects for movies and games. ​Just plug ZM-1 with USB into your laptop, iPad, Windows tablet, or ZR-1 Portable Recorder and you are ready to record.​
COMPARISON BETWEEN MONO, STEREO AND BINAURAL AUDIO FROM AMBISONICS
​This video showcases the difference between three sound reproduction techniques – mono, stereo and binaural from Ambisonics. Notice how at the beginning the audio is like a point in the middle, then it gains more spaciousness by changing to stereo, and finally – it surrounds you from every side when it's binaural. Binaural audio lets you experience the recorded moments so naturally, as if you were there – such realistic reproduction cannot be achieved with standard recording techniques.

Really impressed with this mic! We recorded ambisonic concerts with it and it was not only easy to setup, it performed extremely well. Really excited to see where Zylia goes next!


It sounds amazing!
​I can't wait to record small music ensembles and ambient sounds with ZYLIA ZM-1.


It's really great to be able to get binaural, 5.1, Dolby Atmos, and 3rd order Ambisonics impulse responses from the same sweep recording.


I love the microphone!
I've been recording lots of HOA ambience and effects for use in my atmos projects.


ZYLIA PRO recording solution is super easy to configure. It has a nice response on the spectrum for ambiance.


ZYLIA PRO Sessions with Joel Hamilton
​Joel Hamilton describes his experiences when using ZYLIA ZM-1 microphone for professional studio recording.
​Joel Hamilton from Studio G Brooklyn, New York. Producer, engineer and musician. He is a seven-time Grammy-nominated producer and engineer. He lives in Brooklyn, New York where he owns and operates Studio G Brooklyn, a recording studio with Tony Maimone and Chris Cubeta.

How does it work
​​Watch this tutorial to get to know ZYLIA ZM-1 microphone and ZYLIA Studio software better.

ZYLIA Studio PRO basic Tutorial
​​​​Manipulation of 'Virtual Microphones' polar patterns and positions gives you the ultimate control over the recorded sound-field in post-processing.

Recorded with ZYLIA ZM-1

The audio for the "First Aid Kit" clip was recorded by SONY Music UK only with ZYLIA ZM-1 microphone array. It captured the 360 live audio. The audio was also mixed to 5.1 Dolby Surround Sound. Please, use headphones for the best audio experience. ​
Shot and edited by 4th Floor Creative, 'Fireworks' is taken from the album, 'Ruins'.

Recorded with ZYLIA ZM-1

360 audio and video recordings with acoustic zoom of the choir ​prepared for the virtual reality project of students' graduation in Tokyo.

Recorded with ZYLIA ZM-1

The Elite Quartet
​Playing Movement No 3 of 4 Tango Postcards By Benedikt Brydern.
​Video by James Ivey from Pro Tools Expert.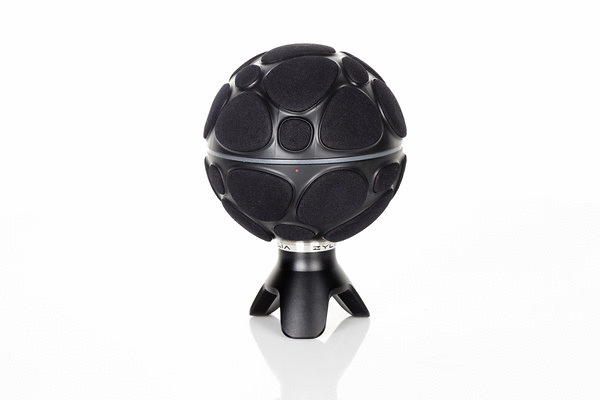 ZYLIA ZM-1 MICROPHONE ARRAY
> 3rd order Ambisonics microphone array
> High-quality recording with 48 kHz sample rate and 24-bit resolution
> Genuine representation of acoustic space
> 19 calibrated high-quality digital MEMS sensors distributed on a sphere
> LED ring status indicator informing about recording status
> USB connectivity makes the process of recording easy
> Recording - ZYLIA Studio software or any DAW (Digital Audio Workstation)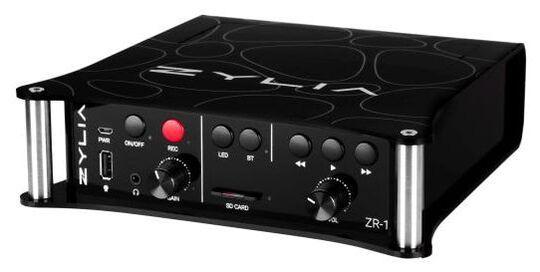 ZYLIA ZR-1 RECORDER
> Portable recording device for ZM-1 microphone array
> SD card recording - storage of up to 2 TB
> Remote control via Bluetooth with mobile application
> Live monitoring via headphones
> ZM-1 gain control
> ZM-1 LED ring control
> On-board stereo playback
> Powered with 8 AA batteries or with an external DC power supply (micro USB)
ZYLIA STUDIO SOFTWARE
> Desktop application for MAC, Linux, and Windows
> Record, mix, and store your recordings
> Extract individual instruments into separate tracks
> Create a balanced recording by adjusting the volume and panning of individual instruments or leave it for the AUTOMIX option
> Multiple export possibilities (raw 19-channel recording, stereo mix, single instruments tracks) - polish your recording in your favorite DAW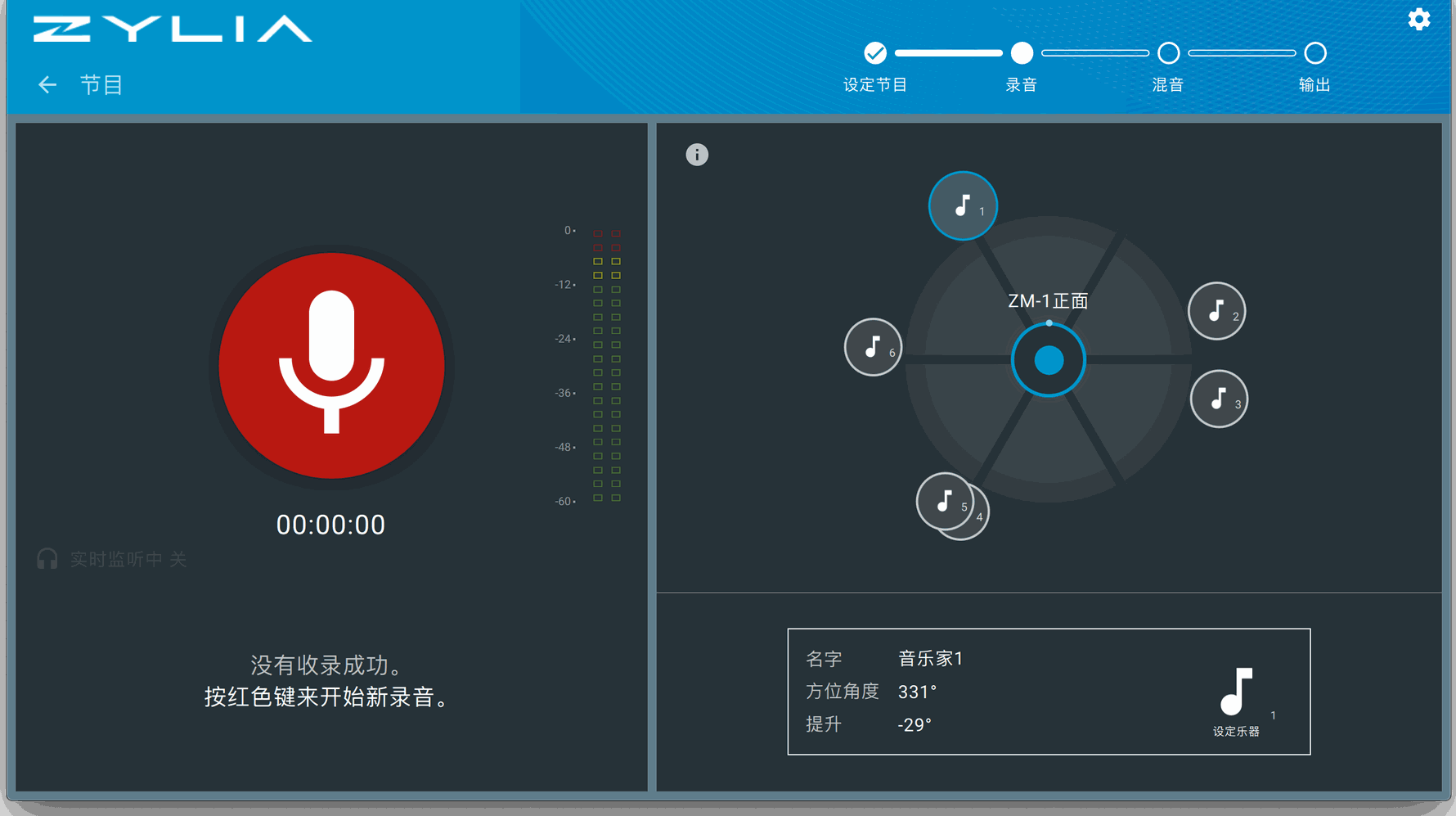 ZYLIA STUDIO PRO PLUGIN
> Possibility to set and monitor virtual microphones of multiple polar patterns or characteristics - live or during post-production!
> Presets for surround standards such as Dolby Atmos, 5.1, 7.1, 5.4.1, 22.2, and more.
> Sound sources separation in real-time
> Automatic detection of the sound sources' positions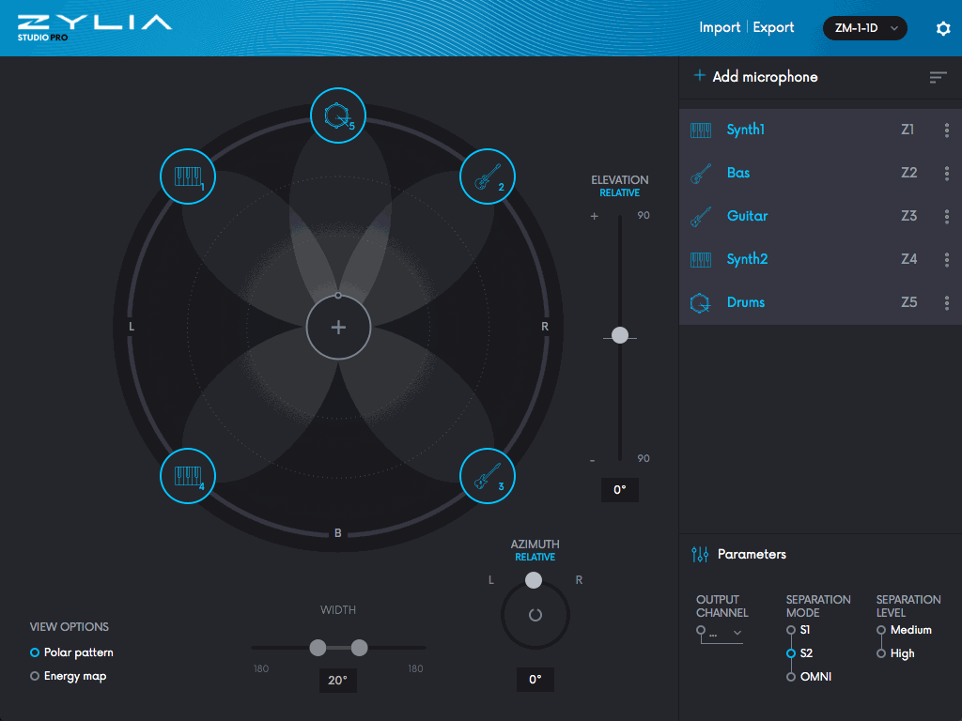 ZYLIA AMBISONICS CONVERTER SOFTWARE
> B-format conversion (1st, 2nd and 3rd order of HOA)
> FuMa or ACN channel ordering & SN3D or N3D normalization
> Compatible with ambiX
> Support for YouTube360 and Facebook360
> Correction of ZYLIA ZM-1 microphone position in the post-production stage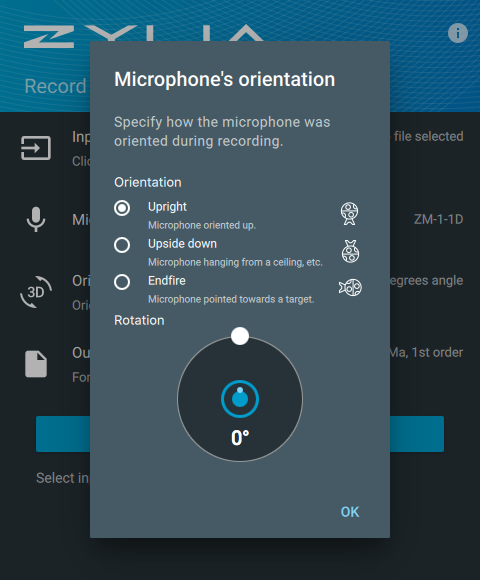 ZYLIA AMBISONICS CONVERTER PLUGIN
> Available as VST, VST3, AU and AAX* plugins
> macOS and Windows versions
> Compatible with DAW that supports at least 19 channels per track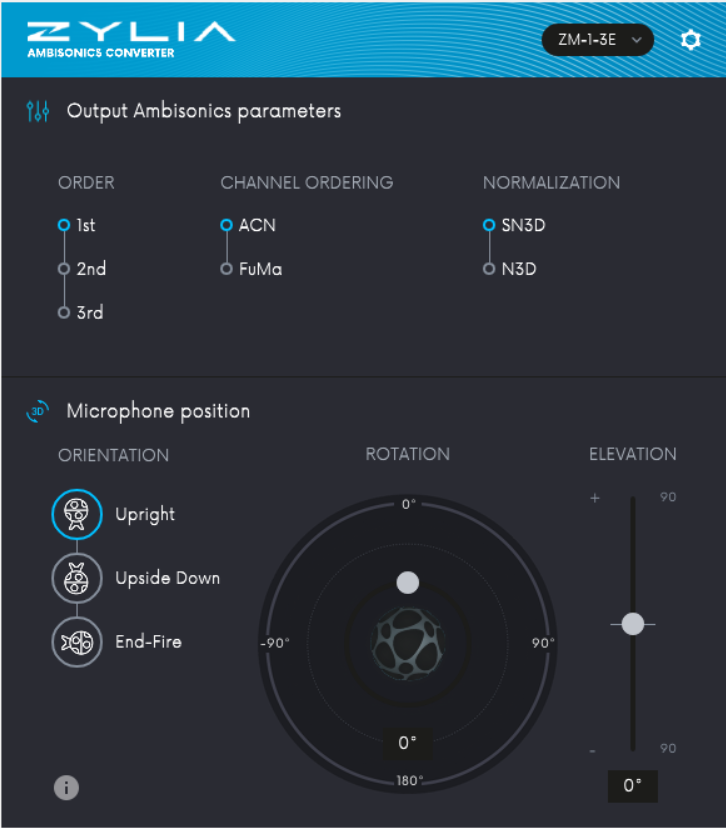 ZYLIA STREAMING APPLICATION
> Embedded B-format conversion with ZYLIA Ambisonics Converter (1st, 2nd, and 3rd Ambisonics order)
> FuMa or ACN channel ordering & SN3D or N3D normalization
> Software-based adjustment of ZYLIA ZM-1 microphone position
> Multichannel HOA or 2-channel Binaural output mode
> Supports OBS and other streaming tools
> Works on macOS systems
> OBS Plugin which can get audio directly from ZYLIA Streaming Application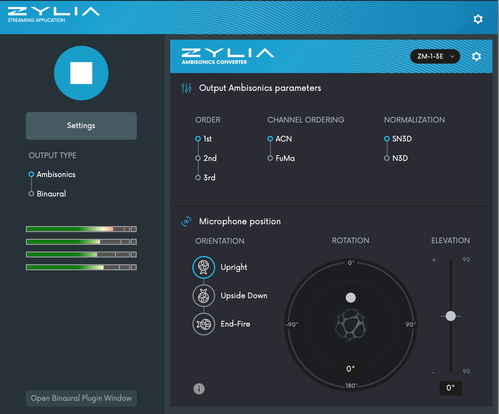 ZYLIA LOUDSPEAKER CALIBRATION & LOCALIZATION
> Calibrate loudspeaker systems for stereo, surround, or Dolby Atmos
> Find the position of the loudspeakers and provide it to any spatial decoder
> Accuracy to 1.5 angle degree
> Do not waste time with laser alignment of your loudspeaker the next time you prepare your listening room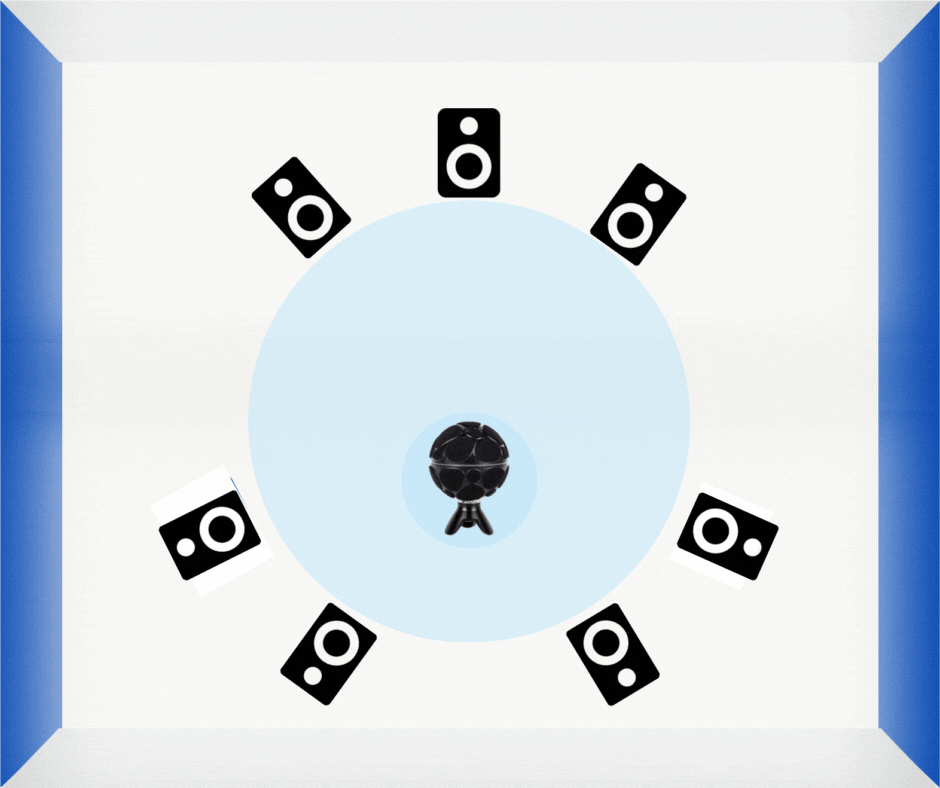 GET ZYLIA 3D AUDIO SOLUTIONS
BE SURE TO CHECK OUR REVIEWS
SUBSCRIBE TO ZYLIA NEWSLETTER!
Sign up for a free newsletter. Stay informed about audio field content, new products, software updates and promotions.